This weeks market watch is focused on the housing market and jobless numbers for April
Fallout from Luna Foundation and UST Depeg
The Luna Foundation has confirmed that almost all of the $1bn in Bitcoin reserves was sold, and as of 16-May, they have just 313 BTC remaining in inventory.
As anticipated, the liquidation of LFG's 80k Bitcoin reserves led to a historic sell off. Bitcoin realized losses reached peak levels during this time.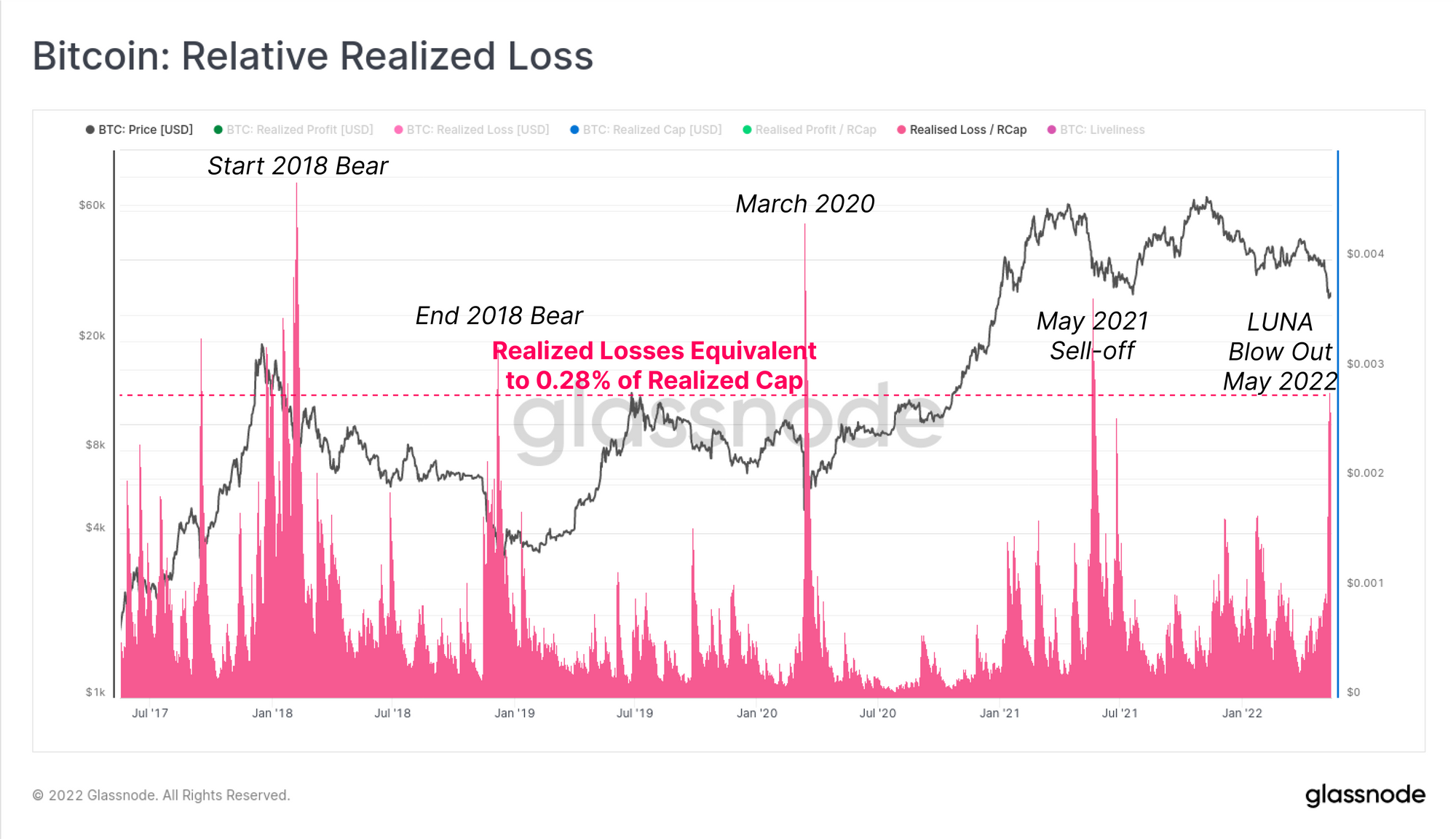 The below chart visualized BTC's Adjusted SOPR. The Spent Output Profit Ratio (SOPR) is computed by dividing the realized value (in USD) divided by the value at creation (USD) of a spent output. Or simply: price sold / price paid.
This metric provides insight into macro market sentiment, profitability and losses taken over a particular time-frame. It reflects the degree of realised profit for all coins moved on-chain.
USDT Briefly Depegs
Following the UST depeg, USDT briefly traded to a low of $0.9565, but recovered back up to $1 shortly after. During this time, Tether continued to process redemptions.
US Housing Market Data
How does the crypto relate to the housing market? The chart below shows how a slowdown in the pace of job creation in the construction sector has preceded both recession in the 2000s.
Currently Macro Economic Conditions are the second lowest in 75 years, despite this negative indicator, the housing bubble is continues growing. New homes construction is rising along with new home prices.
The housing market numbers planned this week will provide some insight to keep an eye on.
Upcoming Market Events scheduled this week
US Retail Sales - May 17th at 8:30am EST.
Housing Starts (SAARS) - May 18th at 8:30am EST.
Initial Jobless and Continuing Jobless Claims - May 19th at 8:30am EST.
Leading Economic Indicators, and Existing Home Sales - May 19th at 10:00am EST.
Interested in contributing to the Ooki DAO's weekly market recap? Drop us a message on Discord or Twitter!
---
Subscribe
Join the newsletter to get the latest updates.
---
---